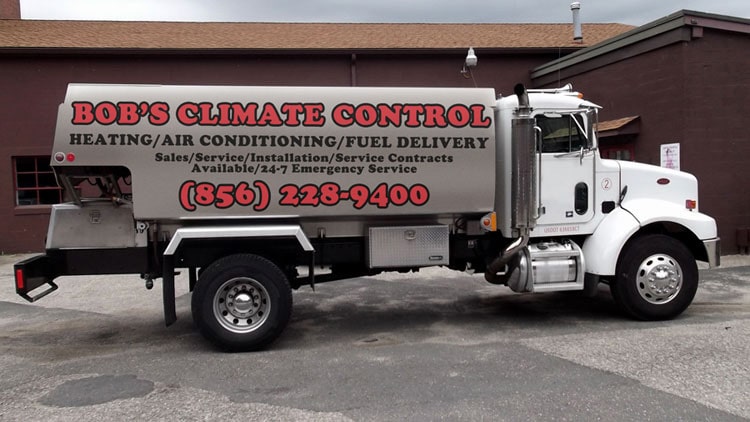 Fuel Oil Delivery
At Bob's Climate Control, a heating oil company, our goal is to accomplish comprehensive client satisfaction with rates that can't be beaten. Since we started in 1999, Bob's has been serving multiple clients, including single and family homes, corporate buildings, municipal buildings, and schools.
We have a dedicated task force of fuel oil delivery vehicles ready for emergency distributions, so we are always there when you need our services.
In What Areas Do We Deliver?
At Bob's Climate Control, we deliver top-quality heating oil at the best rates around you, covering many areas. We have the fastest service to make our customers happy with their orders from where ever they order.
Fuel Oil Delivery In Sewell
Our top-quality heating oil is now available for delivery in Sewell, with fast and convenient delivery methods.
Fuel Oil Delivery In Williamstown
We have also started delivering our premium heating oil in Williamstown.
Fuel Oil Delivery In Washington Township
With the all-in-one ease of delivery, our best fuel oil delivery in Washington is now available.
Fuel Oil Delivery In Sicklerville
Do you live in Sicklerville? Do you need heating oil? Don't worry; clients are our priority, so we deliver heating oil in Sicklerville.
Fuel Oil Delivery In Pitman
Delivering heating oil on time is the objective of our service, so now, we are available in Pitman.
Fuel Oil Delivery In Glassboro
High-quality oil can be delivered to your doorstep, now also in Glassboro.
Fuel Oil Delivery In Clayton
Clayton is now in our delivery areas, so we are here to fulfill your need if you need the fastest and most good quality oil.
Fuel Oil Delivery In Franklinville
We provide our top-quality fuel oil in Franklinville as well. Our transporters make it fast and easy.
Fuel Oil Delivery In Blackwood
Blackwood is also one of the areas we cover in our fuel oil delivery service. So if you live in Blackwood, place your order now!
Fuel Oil Delivery In Deptford
We deliver quality with satisfaction, that's what you need, now delivering in Deptford too.
Fuel Oil Delivery In West Deptford
With our best delivery service, we provide heating oil in West Deptford. If you reside in West Deptford, we are there at your service.
Fuel Oil Delivery In Mantua
Mantua is also one of the areas we cover. Bob's tries to provide top-quality oil in your preferred area.
Fuel Oil Delivery In Woodbury
Our oil delivery is also available in Woodbury; you can easily place an order to take our services.
Fuel Oil Delivery In Paulsboro
At Bob's, our team ensures to give you premium heating oil at your conveyance in Paulsboro.
Fuel Oil Delivery In Mullica Hill
Thanks to our transporters, you can benefit from our most convenient oil delivery service in Mullica Hill, which makes it possible.
Fuel Oil Delivery In Gloucester County
With a superior and easy delivering process, now it is possible to take our services in Gloucester Country.
Our Top-Quality Fuel Oil Delivery Service
At Bob's, our team of professionals uses their expertise to make fuel oil delivery feasible for anyone in need. You are at the right place if you seek the most efficient and economical fuel oil delivery.
Along with all the other outstanding advantages of being a current BCC (Bob's Climate Control) customer, you can rely on our qualified staff to transport fuel oil in an emergency in many different locations. Realizing that your home or place of business is out of fuel oil might be inconvenient, but it can also raise safety issues. We can help whether you've run out of home heating oil in the middle of a winter storm or need to put your company's fleet back on the road. Our company is known for providing high-quality services, products and the best fuel delivery in New Jersey. One of the many ways we help enhance the comfort and quality of life for residents and businesses in and around our community is our emergency fuel oil delivery service.
Key features of Fuel Oil Delivery
Stress-free and expedient fuel oil delivery in your specific area.
Bob's has an expert task force to make ends meet, even in emergencies, with 24/7 fuel oil delivery.
Our excellent fuel oil delivery service guarantees customer satisfaction, and we don't want to disturb our clients for placing their orders. We have suitable plans for you, so instead of placing an order every time, you can choose a method according to your preference.
Our ability to distribute fuel oil in an emergency sets us apart from our rivals and gives you additional piece of mind.
The first company you should choose if you own a fueling station and need fuel is Bob's Climate Control. We provide industrial bulk deliveries to both above- and below-ground tanks, and our affordable prices and dependable delivery services are something you can rely on.
We can determine your needs if you want heating oil delivered to your home on a set schedule in South Jersey, North Jersey, or any of the areas we serve. We will also give you the oil without asking you again!
Benefits of Bob's Fuel Oil Delivery
Throughout the region we serve, fuel oil is used in homes and businesses for various purposes, including cooking, heating, and operating motor vehicles. You must acquire with us as a company you can trust to optimize your comfort with the products and services. Being one of our clients has various advantages, such as:
Here is where we stand out from the market. We are the most reliable heating oil provider, and you can easily rely on our services which aim to please you with your order.
Fuel that is subpar, diluted, or watered down can permanently harm car engines and home heating systems. Bob's Climate Control consistently provides the best value for your money, thanks to improved quality control and an unmatched dedication to customer satisfaction.
Accessibility is one of our notable key features. We are accessible in most areas, and with the 24/7 service, we are here to handle any emergency as well.
Consistency is the key to success. We are consistent with the services we provide. As an all-in-one service company, we comfort our customers by consistently delivering heating oil on time. We never lack.
Efficiency is all that you necessitate, and we never let you down. Our professionals are efficient in making the fuel oil delivery process stress-free.
Why Bob's Emergency Fuel Oil Delivery?
In North and South Jersey, Bob's Climate Control has been a reputable brand in fuel oil supply for more than 23 years. Our commitment to offering the best customer service and the caliber of our products are the keys to our longevity. Call the professionals at Bob's Climate Control for prompt, dependable service that you can count on seven days a week if you require emergency fuel oil delivery in Sewell, Williamstown, Washington Township, Sicklerville, Pitman, Glassboro, Clayton, Franklinville, Blackwood, Deptford, West Deptford, Mantua, Woodbury, Paulsboro, Mullica Hill, Gloucester County.